If you are considering installing aluminum Bi-fold doors, our professionals at Bi-Fold doors Southampton are here to help you.
It's critical to work with a firm with a solid reputation and expertise. Aluminum bi-folding doors are an investment, and as such, you'll want to be sure you buy the best product available.
When selecting an aluminum bi-folding door provider, no one is better than Bi-Fold Doors Southampton. We have the extensive industry knowledge and are delighted to provide high-quality service at a reasonable price.
If you do consider installing aluminum bi-folding doors, there are a few factors to consider. The first consideration is cost, and we provide a variety of options to fit any budget.
Aluminum bi-folding doors are a sound investment that will ultimately save you money on heating expenditures.
Aluminum Bi-fold doors are versatile and stylish and can be installed in various rooms across the house. Aluminum is a fashionable and sturdy material that can replace old glass sliding patio doors or add space to any property. Our aluminum Bi-folds come in a variety of colours to choose from. The doors are sturdy enough to be installed in bigger spaces, providing the critical flexibility required by many houses.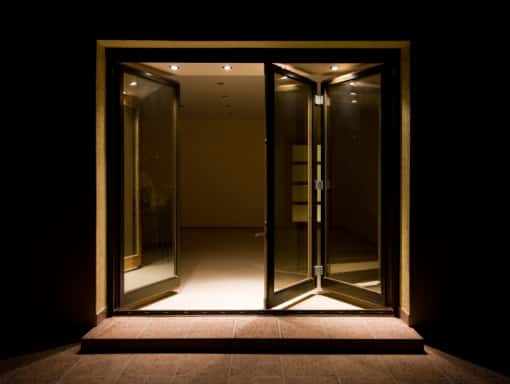 Bi-Fold Aluminium Patio Doors
Bi-fold patio doors are now the preferred choice for those who enjoy their outdoor space as much as possible. Bi-fold aluminium doors offer an uninterrupted view of your garden and allow you to open up your house to be used as one large room for social events, or even just to take full advantage of your open space. 
Bi-fold patio doors tend to be more expensive than their single door counterparts, but the added benefit of opening up your house is definitely worth the cost. They come with security hinges that prevent the door from being lifted right off its tracks, so they can't be lifted open as some other patio doors can. Bi-fold patio doors are also made from thick aluminium sheets, which means they will never warp or rot as wooden doors do.
They are available in a number of different styles, including flush, raised panel and glass options. Bi-folds are great for allowing light to flood through your home, especially if they are made from glass. Bi-folds offer more glazing options than single patio doors since you can choose between fixed or opening panels. They are also available with a number of different locking systems, which allows you to keep your house secure whenever you are at home or away. Bi-fold patio doors are available in a number of different colours to suit your existing decor and are effortless to open and close, so you have easy access to your garden whenever you want it.
How good are aluminium Bi-Folding doors?
If you're looking to replace your old wooden style doors with something different, then an aluminium bi-folding unit could be the solution for you. Due to its versatility and low maintenance requirements, aluminium is currently one of the most popular materials for bi-folding doors.
They are known for many great features and are incredibly flexible, allowing you to customise your unit to suit your building specifications. They are also easy to maintain, meaning less hassle for. Lastly, aluminium is highly energy-efficient, with low heat transfer rates allowing your rooms to remain cooler in the summer and warmer during winter.
Aluminium bi-fold doors are considered to be excellent value for money. They can provide a solution that will not break the bank whilst still looking great and provide you with some of the essential features that you need.
There is no denying that aluminium bi-folding doors are one of, if not the best, solutions out there on today's market. Their flexibility and user-friendly nature provide a unique service for all your needs. What's more, their energy efficiency makes them a valuable addition to any building. We also offer uPVC bi-folding doors as another option if you feel these are more suited to your needs.
Slimline Aluminium Bi-Folding Doors
Slimline Aluminium Bi-folding doors are the perfect choice for the modern, contemporary styled home. Slimline aluminium bi-folding door sets are one of the best quality folding doors available, which is why they are so popular for new house builds and renovations alike.
Slimline aluminium bi-folding doors can be adapted to suit both modern and traditional properties with ease. They can be fitted with various side panels, including a glass panel which is perfect for letting in natural light to your home. They are solid, durable, and flexible and are an easy-to-use solution for creating an open-plan interior. They are also a sure way to add a touch of modern style to your home while ensuring that your property is safe and secure. Slimline Aluminium Bi-folding Doors are available in various designs, colours and finishes to suit your tastes.
Bi-Folding Doors near me
 Bi-Fold Doors Southampton are your local go-to contractor for all your concertina door needs. If you searched for 'Bi-Folding Door Installation Near Me 'and our site showed up, then we cover your area. Please get in contact today so that we can discuss all of your needs.